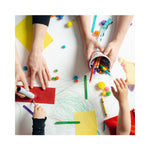 Kids Activity Kits
We LOVE making things with our hands and hope you do too!
Included in this range are :
- Themed Activity books to colour in, poems and fun questions.
- Sewing Kits : you stitch your own animal companion out of a pair of socks !
- Packs of themed Masks that you colour in, then cut-out and wear.